The Father Andeweg Institute for the Deaf F.A.I.D. is a school for Deaf Children in Lebanon, it was founded by a Dutch Anglican clergyman Father Andy Andeweg. It is a christian school that caters for all children who are deaf or hard of hearing regardless of their religion, ethnic origin or financial ability to pay.  At the moment there are 73 pupils in the school age 3-18 years, 26 resident and 47 day pupils. 
68% Muslim, 10% Druze and 22% Christian.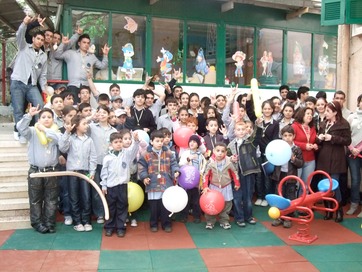 Friends of FAID was started in October 2008 after a visit from Geraldine & Anton Scheele to The Father Andeweg Institute for Deaf Children.
Our Committee
Chairperson     Anton Scheele
Secretary          Geraldine Carroll Scheele  friendsoffaid@gmail.com
Member           Sarah Byrne
Member           Marie Tallon
Member           Avril Rooney