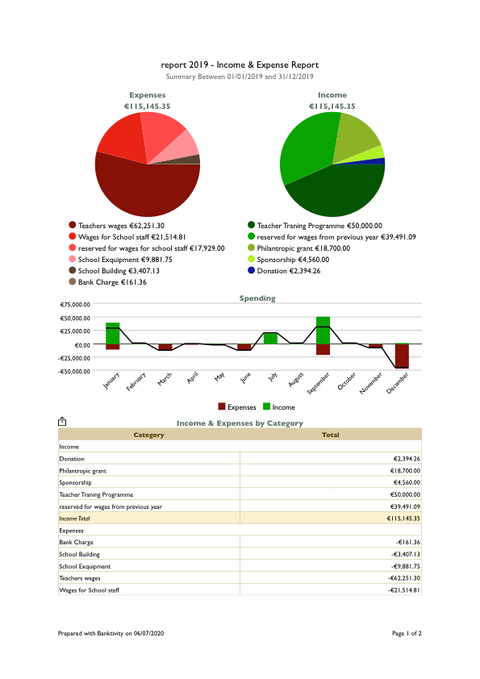 Financial Notes
2019 was a very busy year for FAID and for Friends of FAID. 
In 2018 we applied to Friends of Effatha for sponsorship of a 5 year teacher training program for former students.  We are now  in the second year and as you can see from our financial report most of the funding from Friends of FAID to FAID has consisted of wages for teachers and trainee teachers. As the academic year runs different to the financial year, we have money  for wages reserved for the rest of 2019/2020 academic year. 
2019 also so the start of substantial outreach work among Syrian refugees.  Friends of FAID has succesfully applied for funding for 2 outreach workers. And FAID's  2 outreach workers are funded through us.
Our income for the year ( without carried over reserves) was € 75654.26 
Our outgoings ( without carried over reserves ) was € 97216.35
Our expenses  were €161.36  ( bank charges )
The crisis in Syrian made thousands of families to flee to Lebanon. The majority of these families live in camps in very difficult circumstances. . Amongst these families there are hundreds of parents with deaf/hard of hearing children, who are deprived of any form of health or educational support
With your support FAID has started an outreach program to help and support refugee parents to work with and educate their own deaf children. Our outreach program is a 4 hour session, once a week over 15 weeks. During these 15 weeks, parents will be taught what deafness is and what part they can play themselves in helping their child to become the best version of themselves
Thank you so much for making all this possible.
Your love, prayers and support is making a huge difference to the lives of these children.
All donations made to F.A.I.D are used for the school & children, no administration, travel etc costs are deducted.
Friends of FAID Ireland. Castleview, Clonmore, Hacketstown. Co. Carlow Email: friendsoffaid@gmail.com Phone No: 059 6471377
Chy No: 18520